Some hotels that use PressReader every day
The only amenity of its kind
Let your guests choose what they want to read so you don't have to. They can hand-pick favorites like The Washington Post, The Guardian, Bloomberg Businessweek, Elle, and Rolling Stone .
They also get unlimited downloads. That means they can read on the go whether they're connected to your WiFi or not.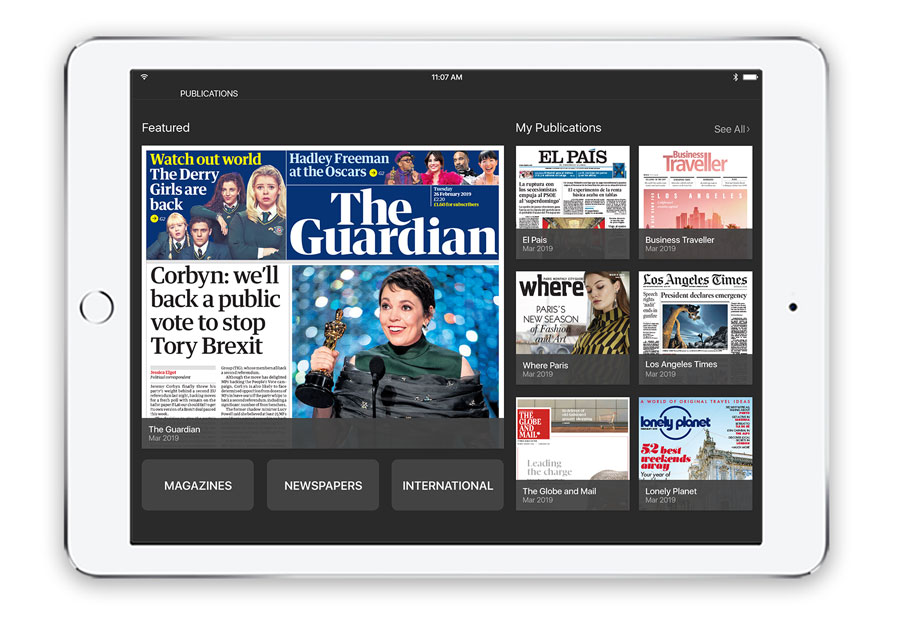 Around the world is just around the corner
No matter where your guests are from or what they're interested in, they'll find something they like. Curious travelers can search PressReader by country or by city to find premier guides for local events, music, art and entertainment.
They can keep up-to-date with news from abroad or news from home. And, if they want to read a publication originally produced in another language, our translation feature makes it easy.
Branded and built for mobile
You want a stay at your hotel to be memorable. Use PressReader to grab your customer's attention early, and keep it throughout their stay. Take advantage of the in-app welcome message and subtle branding opportunities to deliver the right messages at the right time.
Deliver your hotel's magazine or restaurant and spa menus through PressReader. Feature them in the carousel next to other publications you know your customers are going to love. And, use PressReader's Radiant Access solution to give your guests access to the platform even after their stay.
Run your hotel better
We know you're focused on keeping operating costs down and running your hotel efficiently.
It would be impossible to provide every title your guests want to read in print, and even more difficult still to manage all the necessary delivery and recycling logistics.
Going digital means you get to offer more selection for your guests -- effortlessly.
Get to know your guests
Use regular updates on reading behavior to learn more about who's staying with you. Knowing their taste in magazines can help you craft messages and plan services that appeal to their interests.
Hotels around the world are already using this information to personalize stay experiences. Check out how Monteleone in New Orleans increased engagement by 400% by promoting specific publications at the hotel.
Learn more
More locations, more platforms - no problem
Our solutions scale easily. For hospitality groups or chains with multiple location, PressReader can be set up and running at every locations in a matter of minutes. Stop worrying about delivery logistics or over-the-top operational costs.
No assembly required
We manage all of the setup and offer complimentary staff training to make sure you and your team have the resources you need to make the most of our partnership.
Why adopting new technology is a key to remaining competitive in the hotel industry

2023-03-09

In the hotel business, cutting-edge features that were once a novelty or "nice to have" are what today's increasingly tech-savvy travelers have come to expect. A recent report from Hotel Technology put it another way, noting that "hospitality customers no longer simply accept the role of technology in their experiences and transactions, but actually demand […]

Daniela Lopez Escobar
The 10 greatest influences on tourism in the past 10 years

2023-02-28

Tourism, at its very core, is about connecting the world. Nothing about the travel industry exists in a vacuum, which means that it's particularly susceptible to trends and cultural shifts. That's right: tourism trends are impacted not just by the cost of flights and hotels but by technology, media, politics, health, economics and beyond. But […]

Daniela Lopez Escobar
Is artificial intelligence the future of the hospitality industry?

2023-02-23

It seems as if a week doesn't go by without artificial intelligence (AI) making headlines. One week it's universities scrambling to put policies in place regarding OpenAI's ChatGPT — which can generate a paper on any topic as fast as a student can feed it prompts — and the next it's tech giants racing to […]

PressReader Team
See more